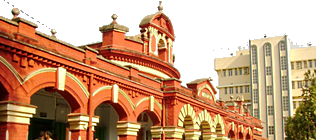 Office Profile

Zilla Parishad (ZP)

Functionaries

Part of Administrative Building (PMZP)

District Profile

Other Units

District Map (West Midnapore)

Works Under ZP

Housing & Roads

Sanitation & Edu.

Schemes Under Paschim Mednipur ZP

Fund & Finance

Finance & Funds of Paschim Mednipur ZP

Others

Public Corner

Public Corner of Paschim Mednipur ZP

Administration

Other Interests

Contact @

Contact with Paschim Mednipur ZP

Thursday, May 23, 2019

Third State Finance Commission (3rd SFC)
---
About Third State Finance Commission (3rd SFC):
State Finance Commission is the Constitutional body of experts on public finance and public administration appointed by each state government at regular intervals of five years under the article 243I of the Constitution to review and revise the financial position of panchayat raj institutions and urban local governments.
The Third SFC has moved on to a regime of fixed grants. It fixed the base year's grant equivalent to the recommendations of the Second State Finance Commission and suggested 10% annual increases for the five-year period. While this has cost the Local Governments the possible gains due to buoyancy in tax revenue, it has improved predictability as the State Finance Commission has indicated Local Government-wise share for each year over the five-year period under the three streams of General Purpose Fund, Maintenance Fund and Development Fund.

The recommendations of the third SFC were as follows:-
For the financial year 2006-07, Rs.300 crore may be transferred as General Purpose Grant, Rs.350 crore Maintenance Grant and Rs.1400 crore as Development Grant. 10% annual increase may be provided during each of the four subsequent years. The entire amount may be provided in the State Budget as "Compensation and assignments to Local Self Governments" in Non-Plan revenue account. (Till now Development Grant was treated as Plan grant-in-aid) Local Government-wise allocations for each of the three streams was provided in the report of the SFC itself year wise.
General Purpose Grant should be released in 12 equal monthly instalments and other grants in 10 equal monthly instalments from April to January. The funds should be transfer credited to Public Account (Major head of account 8448) before the 5th of every month. 10% carryover is allowed in respect of Maintenance Grant and Development Grant.
A Finance and Accounts Wing may be set up even in Village Panchayats.
The payment of salaries of employees transferred to Local Governments may continue to be paid by Government.
Before ordering exemption in taxation which would adversely affect local government, Government should obtain the recommendation of the Local Government.
Progress Report on Third State Finance Commission (3rd SFC) - Gram Panchayat/Panchayat Samity Share: